Sometimes your kitchen just needs a face-lift. If you've been stuck in the doldrums with the same beaten up cabinets for years, or you've just moved into your new home and the kitchen needs an overhaul, then kitchen cabinetry is a worthwhile investment. They can make the kitchen new again and help to revitalize your entire home. If you're not sure if you're ready, here are the top ten signs to watch for indicating the kitchen needs an upgrade!
1)      WEAR & TEAR – Whether it's from kids running around the house, a knocked over chair, or even just a tricky door that's been slammed one too many time, eventually your cabinets will start to show their age.
2)      HOME SELLERS – Buyers might be turned away at the sight of your outdated cabinets!
3)      NEW APPLIANCES – If you are re-styling your home and purchasing new appliances, they may clash with your existing counter tops and cabinets.
4)      NEW FLOORING – Maybe you've fallen in love with the tile you selected, but it won't match up with your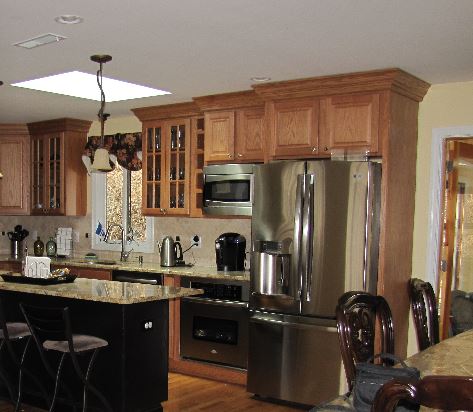 cabinets. Also, if your existing flooring lies underneath the cabinets, you'll have to pull them out anyway.
5)      NEW LIGHTING – That wonderful new fixture might paint your cabinets in an unflattering light.
6)      NEW WINDOWS – If you are upgrading your windows to more energy efficient options, it's the perfect time to actually move the window location. Maybe due to the placement of your faucet, your window wasn't centered properly. With a new window comes a new chance at re-designing!
7)      WATER DAMAGE – Inferior wood can rot away over the years from the tiniest of leaks, whether from a sink, dishwasher, or fridge. Water is a powerful force and can ruin not just the cabinets, but the walls they are fixed to!
8)      NEW COUNTER TOPS – Many people end up putting new counter tops down on old cabinets and it doesn't look quite right. Later, you have to try to pull them up to change out the cabinets too, risking damage to the stone. It's a step forward, two steps back ritual.
9.)     LAYOUT ISSUES – If the cabinetry was previously designed poorly, and doors are hitting each other or cannot open correctly, it can be very frustrating when you are trying to function in your kitchen. Those blind corner cabinets and voids are blinding you from your much needed storage and de-value your kitchen overall.
10.)    STORAGE & ORGANIZATION – Accessories help you utilize dead space and assist in reaching those back corners are now standards in proper cabinet design.  Finding more storage space and creating accessibility adds value and de-clutters your kitchen.